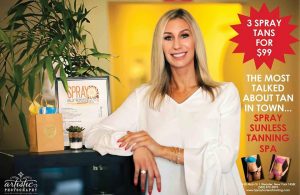 SPECIAL FEATURE
THE SPRAY DIVA: KATIE ADKINS
ByKelly Breuer
September 8, 2018
Spray tanning expert Katie Adkins is the innovative mind behind the first, and most recognized custom spray tanning only salon in Rochester NY. Known as the Spray Diva, Katie has been proudly serving Rochester for over a decade. She is one of the most experienced spray tan artists with over 12 years experience, and there is truly no one else you would rather have do your color.
NATURAL. FLAWLESS. VOTED #1. WE PROUDLY PROVIDE ROCHESTER'S MOST NATURAL, FLAWLESS, HEALTHIEST, LASTING CUSTOM SPRAY TANS. NEVER ORANGE, NEVER STREAKY NEVER BLOTCHY. ONLY PERFECTION! WE HAVE BEEN IN BUSINESS FOR OVER A DECADE AND GRATEFUL TO HAVE SPRAYED MORE THAN 10,000 HAPPY CLIENTS
What started as a hobby of hers over a decade ago, turned into one of the fastest growing businesses in Rochester. She started off spraying friends and family out of her home for fun, but soon the demand became overwhelming. Katie decided to dive all in and take her passion to a new level.
She began by seeking out the most reputable sunless tanning company for nearly a year and was incredibly blessed and lucky to work with Rick Norvell, owner of the largest national tanning company in the US called Norvell Tanning. She traveled the US furthering her sunless training and knowledge. Still until this day, the Spray Diva continues to further her sunless knowledge of solutions, cutting edge technology, exclusive techniques and more.
In 2009, after working hand and hand with Norvell and other sunless tanning companies and after hundreds of spray tan applications, Katie took the biggest risk of her life and opened SPRAY Sunless Tanning Spa, Rochester's first original "spray tan only" salon.
Now, after just over a decade, Katie has become the most sought after spray tan artists in Upstate NY with clients traveling over an hour and a half and as far as California to be sprayed by her.
Katie has undoubtedly perfected the custom spray tan. Spraying locals models (print, fashion, commercial, fitness, body builders), actors, professionals, brides grooms, and even just everyday tans..the list is endless.
Using an all natural high grade vitamin enriched solution that is nourishing to the skin, Katie combines specialty techniques that contour each and every body (all ages and body types) with absolute perfection.
Katie's extensive knowledge and expertise has allowed for her to train others in the art of custom spray tanning nation wide.
SPRAY proudly offers a wide variety of all natural, shades, developing options of sunless solutions. These things have exclusively allowed Katie and SPRAY to perfectly customize each and every spray tan to every individual skin type and personal preference! Her flawless application accompanied with the customized solutions provide the most natural sunless tan!
She stands behind each and every spray tan application with guaranteed satisfaction!
She has been featured on News Channel 10 NBC, News Channel 13 ABC, Democrat and Chronicle, Webster Post, Webster Chamber of Commerce, and more. She works with many local dermatology offices, spas, businesses including Helendale Dermatology and Inclusion Wellness Spa. She has written for and been interviewed by local wedding magazines, fitness magazines, health articles, etc. SPRAY Sunless Tanning Spa is featured locally throughout multiple doctor offices, dermatology offices, spas, yoga studios, gyms, news rooms, and has affiliates across the USA and Canada. If you would like to see for yourself why SPRAY and Katie have been voted #1, the most sought after spray tan salon/artist call today 872-3893 or visit www.spraysunlesstanning.com now.
Be sure to stay tuned for a lot more to come from this amazing lady in the near future. When she is not a devoted single mom of her beautiful daughter, she is getting ready to announce a second location opening in the Fall in Cornhill!